About the Hotel
The Skalka Hotel is located in the picturesque spa town of Rajecké Teplice, approximately at a ten minute walking distance from the town's centre. The building has been largely renovated. The spa was added during this renovation.
Nature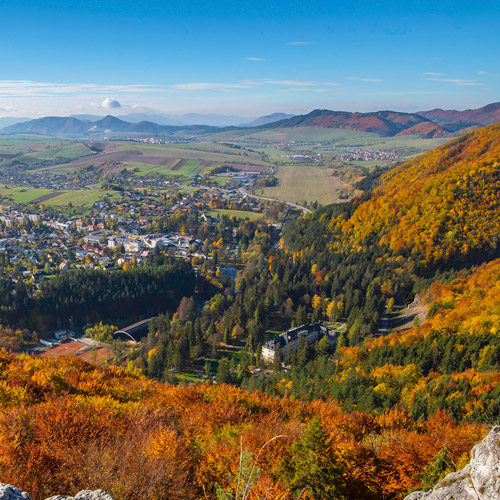 The hotel is located in the northern part of Rajecké Teplice, in the picturesque scenery of a valley (Rajecká dolina), surrounded by stunning mountains (Strážovské hory) from the western side and the exquisite hills of another mountain (Lúčanská Malá Fatra) from the eastern side. Fans of hiking and bicycle touring will be happy to explore the many reconstructed and well-marked hiking trails and cycling tracks. This entire area is particularly famous for its rich fauna and flora.
Hotel's Best Assets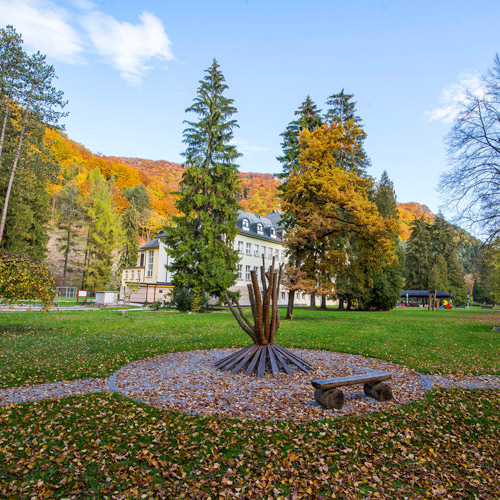 The hotel area consists of a large hotel park with a multifunctional playground, adventure golf course, disc golf course, as well as an asphalt circuit for fans of rollerblading.
The geographical location of Rajecké Teplice gives our visitors endless year-round possibilities to enjoy their stay at our hotel.
Services
We offer the following spa services: brand new spa centre (saunas and jacuzzis), peat wraps, tanning beds, oxygen therapy, cryotherapy, nephrite massages, magnet therapy, infrared sauna and fitness.
We also offer various types of massages: not only the Swedish massage, but also the hot stone massage, aromatherapy massage, honey massage, face relaxing massage, and feet trigger point massage.
Services free of charge: parking at the hotel site, a blow dryer, wi-fi connection
Charged services: sports equipment rental shop.